Bryan Dyck tries to eradicate any graffiti tag the day after it was painted: "If I can get close to the colour, it's gone in four minutes"
Article content
When his wife opened a clothing store on Vancouver's Main Street in 1999, Bryan Dyck was annoyed the street "was full of garbage and litter."
So he started cleaning it up. Over two decades later, he's still at it.
Article content
The 78-year-old walks or drives down Main Street between 19th and 33rd almost every day, looking for graffiti tags. If he sees one, he makes a note of the location and the colour of the building it's on.
Article content
He goes home and mixes up a batch of paint to match the building, then returns and paints over the graffiti.
"If I can get close to the colour, it's gone in four minutes," he said.
"If it's just a line, it can't be more than about three or four centimetres wide with their scribble on it. Well, take the scribble off with the same colour as the building. Done."
Most of the time the graffiti tags are at street level, but sometimes he goes to the top of buildings.
"I go on the roofs. I'll go wherever they go," he said. "The ones that are the problems are (what graffiti people call) the aerials or the giraffes. They go on a roof and do the side of another building.
"I follow the tagger and take it off whenever I see it."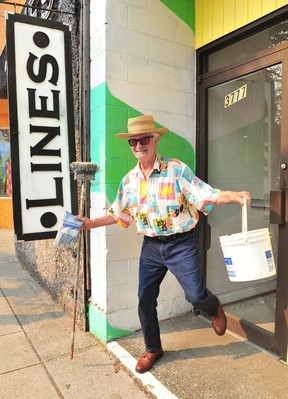 Dyck has the time to do it, because he's officially retired.
"Technically," he said. "I've never worked harder, don't get me wrong."
He has it down to a daily routine.
"About 9-9:30 a.m., I'll get things tickety-boo," he said.
"I'll take the leaf blower, (because) we've got leaves coming down prematurely now. If anybody's done any tags I'll make a little note, and I'll figure out the right colours to go (over it).
Article content
"I did one the other day. It was brand new paint (on a store). They were betting on how long it was before some tag would go on."
Time is of the essence when you're trying stop graffiti tagging.
"Here's the concept: take it off right away," he said.
"Take it off in eight hours. Yes, they will do it again. But you keep on taking it off (until they give up). If you leave it on, more will come, so I just do it every day."
Shira Blustein of Acorn restaurant said Dyck's work is appreciated by the small businesses on the street.
"My experience with Bryan is if somebody graffities your place, if there's taggers at night, he's out there first thing in the morning, covering up the graffiti with paint," she said. "Before it's even had time to dry. He's amazing."
Has he ever had any confrontations with the taggers? A couple of times, but it was just them laughing at him — "an old guy out there trying to clean the street."
"What do you do when you're young and you're an a–hole?" he said. "You make fun of anybody trying to do something."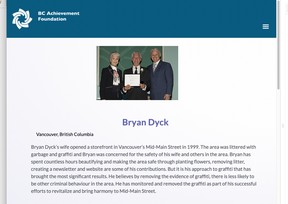 He has also had a couple of incidents with the police, who sometimes think he's tagging. Once a policewoman on her day off phoned in, and he was surrounded by three police cars.
Article content
"I was like, 'I hope I'm not George Floyd today,'" said Dyck. "I said, 'I'm going to show you something,' and it's the picture of me with the premier."
"The story" is about how he received a B.C. Achievement Award in 2006 from then-Premier Gordon Campbell for removing graffiti.
"Bryan Dyck has spearheaded a highly successful effort to revitalize and beautify the mid-Main Street heritage landscape," said the award citation.
"From developing a neighbourhood guide and community website to constructing sidewalk gardens and eradicating graffiti vandalism, Bryan's efforts have contributed to the preservation and encouragement of a safer, cleaner community."
The police let him go, and he went back to getting rid of the tags.
Dyck was born in Steinbach, Man., and moved to the Fraser Valley as a teenager. In his earlier life, he was a printer, and in the 1980s had success with a self-published book on how to adapt to the metric system. He called himself Metric Man at the time.
He has a million stories and opinions. One is how the area merchants don't need to join the Mount Pleasant Business Improvement Association.
Article content
He points out that the city has a program where retailers can get four cans of paint per year to deal with graffiti and help spruce up their building.
"I've gotten a little bit of slack from the Mount Pleasant BIA crowd, who are trying to set themselves up in our area: 'We spend $72,000 on graffiti removal,'" he said. "We spend nothing."
---
Bookmark our website and support our journalism: B.C. news. Politics. Arts. Opinion. Don't miss the news you need to know — add VancouverSun.com to your bookmarks and sign up for our newsletters here.
You can also support our journalism by becoming a digital subscriber: For just $3.50 per week, you can get unlimited, ad-lite get unlimited, ad-lite access to The Vancouver Sun, The Province, National Post and 13 other Canadian news sites. Support us by subscribing today: The Vancouver Sun | The Province.