Indianapolis artist Joy Hernandez is a believer in outdoor murals making a lasting impression, but her experiences show that a lifespan of forever isn't a realistic goal.
"I'd like them to stick around as long as possible," Hernandez said. "I would love it if, in 30 years, somebody saw my artwork."
The artist who founded Full Circle Nine Gallery LLC at the Circle City Industrial Complex has experience with long- and short-term murals.
In 2021, Hernandez painted her signature Bean the Astronaut character on a Jiffy Lube location in Broad Ripple, 6401 N. College Ave. That mural likely isn't going anywhere for a few years.
She painted a hoops-themed Bean for 2021's Swish arts and culture festival to accompany the NCAA men's basketball tournament. While that mural was designed to be short-lived, it landed the artist in the pages of The New York Times.
And Hernandez has experienced her mural being dismantled after a homeowner who commissioned her work sold the property.
The University of Indianapolis alum said she appreciates the longevity of "ghost signs," or enduring hand-painted advertising murals for products such as Coca-Cola or Mail Pouch tobacco.
Hernandez also understands the circumstances of murals in modern times.
"It's somebody else's building, and things happen," Hernandez said. "If I had my way, I'd love to see it last forever, but it doesn't always work out."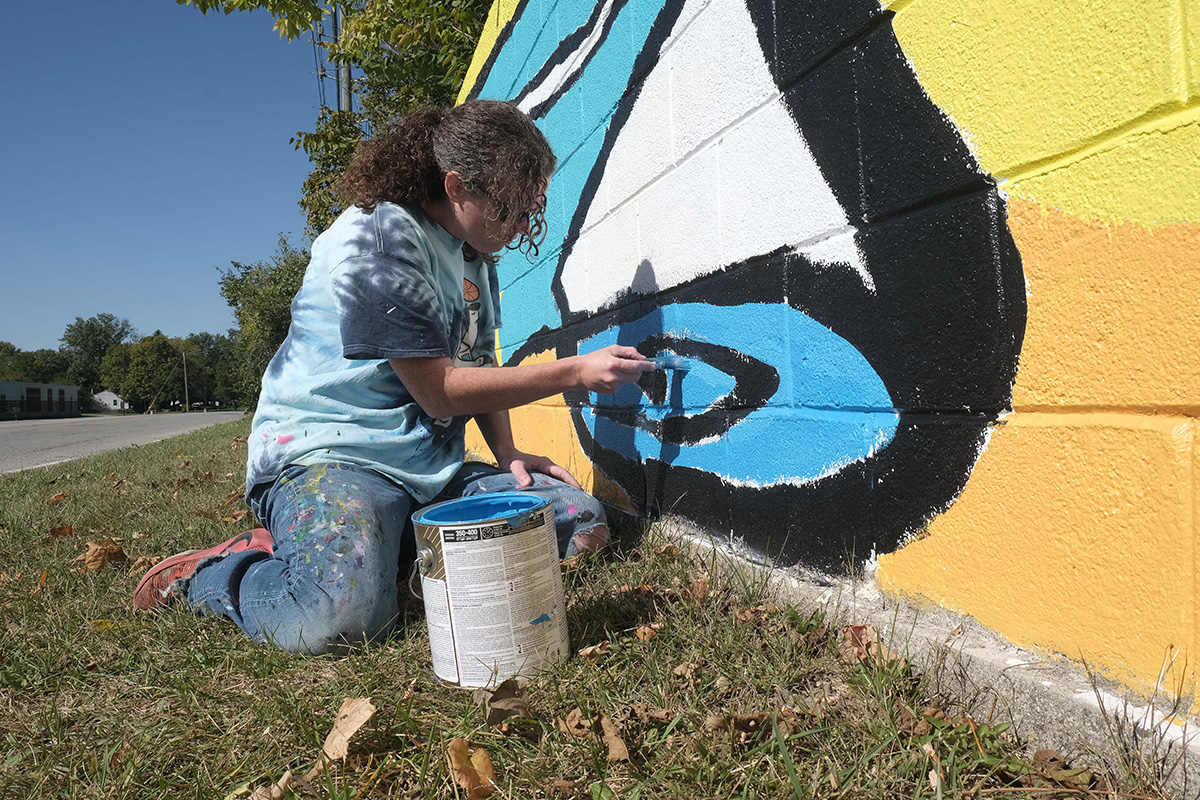 An abrupt case study in mural mortality unfolded last month in Broad Ripple.
On Sept. 18, a 15-year-old mural paying tribute to late photojournalist and reggae DJ Mpozi Mshale Tolbert was covered in white paint with no warning.
The owner of the building at 6308 Guilford Ave. made no public comment about the decision to paint over the 59-foot image. According to property records, Will Power Investments LLC purchased the building in August. Will Edwards, who's been listed as an agent of Will Power Investments LLC, owns Lava Lounge, which operates as a hookah lounge and restaurant in the building.
Edwards, who also owns Havana Cigar Lounge in The Yard at Fishers District and Hovito Ultra Lounge, 234 S. Meridian St., declined opportunities to be interviewed for this story.
Indy Arts Council, a not-for-profit arts services organization, has taken a lead role in elevating the stature of murals and public art in the city. The arts council worked with the city on 2012's "46 for XLVI" Super Bowl mural project as well as the current Bicentennial Legends mural series.
The organization had no affiliation with the Tolbert mural, which happened through an agreement between friends of Tolbert and owners of the building at two different times.
◗ In 2008, two years after Tolbert's death, building owner Steve Ross authorized the painted memorial by artist Ben Long in collaboration with other Indianapolis muralists. Ross had operated The Patio music venue at 6308 Guilford Ave. until 2005, and that business was followed by Spin Nightclub and Lava.
◗ In 2020, Omar Barham was the building owner who OK'd a new version of the mural painted by Dan "Handskillz" Thompson.
Arts council leadership said three stakeholders are involved when murals are displayed: the artist, the building owner and the audience. In most cases—and in the case of the Tolbert mural—a building owner has the right to paint over a mural.
Some reasons for phasing out a mural, according to the arts council, include the changed meaning of an artwork after time has passed, deterioration of the artwork and impending construction at a building.
But even after a 15-year run as a Broad Ripple memorial, and with a different mural of Tolbert still visible on a building in Fountain Square, the erasure of the Guilford Avenue painting happened unexpectedly and in a matter of hours.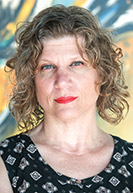 Julia Muney Moore, the arts council's director of public art, said the mural provided evidence that people cared about Tolbert.
"There are a lot of people who become very emotionally invested in the way their environment looks, feels and the way they move through it," Moore said. "If something is changed, there is almost a grieving process all over again. Particularly with this one mural, that grieving process was played out suddenly, sharply and extremely publicly."
The mural celebrated the life of Tolbert, who grew up in Philadelphia and moved to Indianapolis in 1998 to work for The Indianapolis Star. He died in 2006 at age 34. A heart problem known as arrhythmogenic right ventricular dysplasia was cited in Tolbert's death.
In September, artist Mike Graves—one of the organizers of the mural when it was painted in 2008—told IBJ that Tolbert's legacy endures.
"The reason that everybody I know who ever met him remembers him to this day is because he was such a good person," Graves said. "You couldn't miss it."
Artist Thompson said he didn't take it personally when the Tolbert mural was painted over.
"The closest thing to a guarantee for a mural is until the current owner sells the building," said Thompson, who helped organize annual Subsurface graffiti gatherings in Indianapolis from 2002 to 2015.
The Ben Davis High School and Herron School of Art & Design alum said he's probably had more work painted over than work that's still on display in the city.
But Moore and other public art stakeholders said it's not ideal to paint over a revered mural without notice.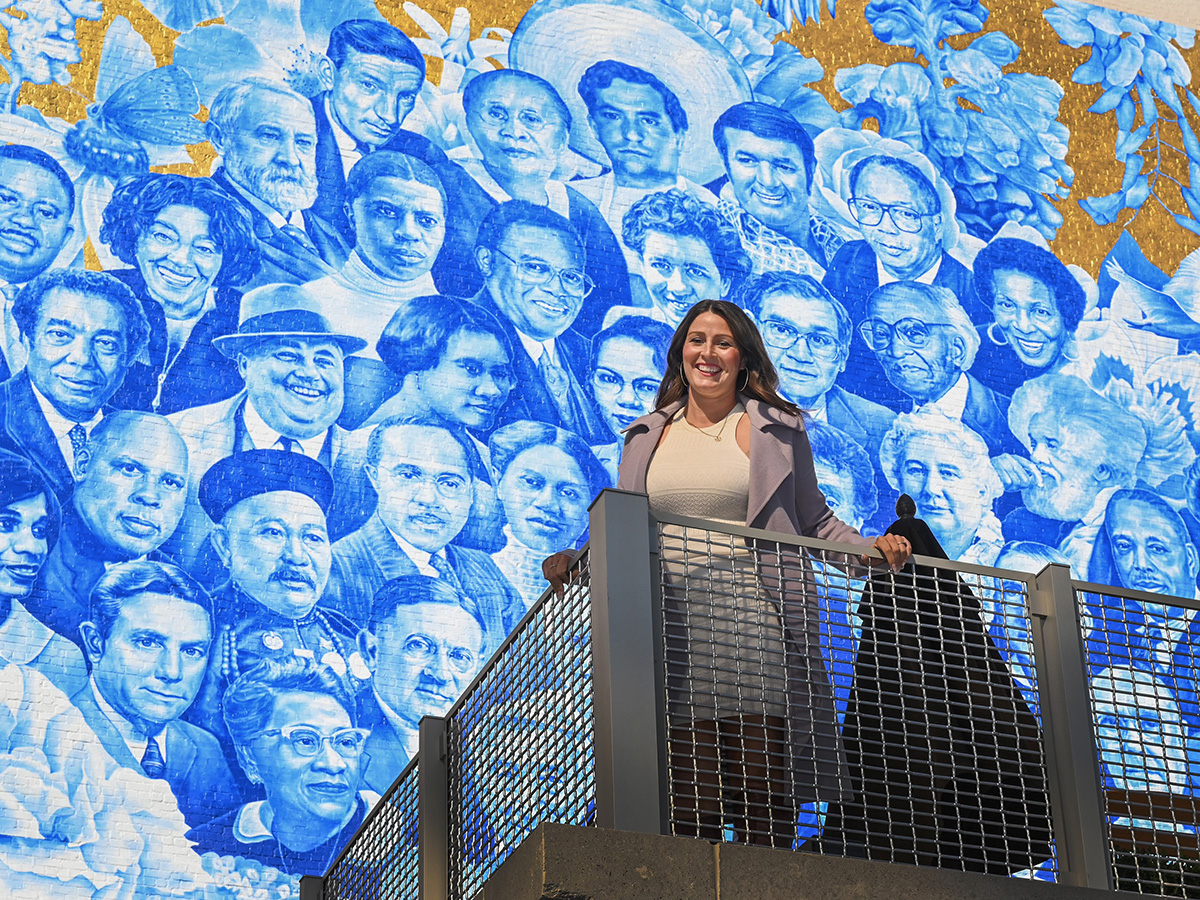 Clear expectations
On Oct. 6, the fourth and final mural in the city's Bicentennial Legends series was unveiled at Bicentennial Unity Plaza north of Gainbridge Fieldhouse.
Artist Anna Murphy painted 43 Indiana icons on the side of the C.A. Schrader Co. building, 101 S. Pennsylvania St., presently owned by Steak n Shake owner Sardar Biglari.
The mural was planned and executed through a partnership that included Indy Arts Council, the Marion County Capital Improvement Board, Pacers Sports & Entertainment and Indiana Humanities.
The mural, featuring depictions of basketball coach Bobby "Slick" Leonard, musician Wes Montgomery, entrepreneur William G. Mays and others, is planned to be displayed for 15 years before any reassessment. The mural is owned and maintained by the arts council.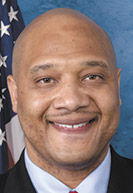 U.S. Rep. Andre Carson, D-Indianapolis, paid tribute to the past leaders who influenced the present.
"Art has always inspired," Carson said during the unveiling. "Sometimes it's united. Sometimes it's divided. But it's always been a spark for reflection and thought. Art has captured the stories of the victors, the vanquished and the visionaries."
Murphy, who was born in England and now lives in Chicago, painted in blue and gold the mural that became a crash course in Indiana history.
Before the event, Murphy said murals bring beauty to neighborhoods.
"It's a fleeting moment in time," she said. "It doesn't last forever, which makes it pretty special. It is sad when one gets painted over. At the same time, there's a new generation of people who might have another story they want to tell. It's part of the life of a mural."
In 2022, the arts council assessed Super Bowl murals that were intended to be displayed for 10 years. The batch of 46 includes two popular murals by artist Pamela Bliss: "My Affair with Kurt Vonnegut," 345 Massachusetts Ave., and "Indiana Avenue Jazz Masters," 322 N. Capitol Ave.
The Bicentennial Legends series launched in 2021 with a painting of cycling champion Marshall "Major" Taylor on the side of the building at 7 E. Washington St. Chicago-based artist Shawn Michael Warren painted the Taylor mural, which replaced a 1975 mural, "The Runners," by James McQuiston.
Between the Taylor mural and the mural highlighting 43 leaders, the series saluted:
◗ Entrepreneur Madam C.J. Walker, painted by Indianapolis artist Tasha Beckwith and unveiled in 2022 at 315 N. Senate Ave.
◗ Poet Etheridge Knight, painted by Florida-based artist Elio Mercado and unveiled this summer at the Chatterbox Jazz Club, 435 Massachusetts Ave.
David Andrichik, owner of the Chatterbox and the building at 435 Massachusetts Ave., credited Indy Arts Council for taking care of advance paperwork and spelling out what will happen with the mural. The arts council is responsible for maintaining the mural, which Andrichik said he expects to be on display for decades.
"There's the physical maintenance, and there's also emotional maintenance, which you always have to do," Moore said. "You have to keep in touch with the people who wanted the mural. To keep that emotional connection going, you need to remind people about the mural and who came together to make that happen."
The Chatterbox is hosting poetry and spoken-word events the first Thursday of each month to correspond with the building's new mural depicting poet Knight.
Knight (1931-1991) hosted editions of his "Free Peoples Poetry Workshop" at the Chatterbox in the 1980s.
"Those were the days you could smoke inside," Andrichik said. "And [Knight] loved to do that, drink Budweiser and listen to the jazz. Then his fans, his acolytes and students would come in, and they would chat about poetry."
Lost history
A photo of Tolbert is displayed inside the Chatterbox, where he was a favorite customer.
Hernandez remembered Tolbert's professional kindness when she was a college photojournalist at the University of Indianapolis covering a chaotic rally at the Statehouse.
"I was right next to Mpozi, and that was the first time I met him," Hernandez said. "He said, 'Stick with me, and do what I do.' I was always grateful for that."
Tolbert spun records as part of weekly reggae parties hosted by Ron "DJ Indiana Jones" Miner at the Casba, a subterranean nightclub across the street from the former Patio music venue.
Miner was a driving force in the installation of the original Tolbert mural in 2008, and Miner spearheaded the 2020 version painted by Thompson.
By 2020, Barham owned the building at 6308 Guilford Ave. and operated Lava's hookah lounge and restaurant.
"He didn't know Mpozi, he didn't know who I was," Thompson said of Barham. "He did all of this based on his trust and his respect for Ron Miner. So that was an incredibly positive experience."
Barham and Miner each died in December 2020. Thompson painted a mural of Miner on the southern exterior wall of the Vogue, 6259 N. College Ave., in 2022.
Although Thompson said he didn't take it personally when the Tolbert mural was painted over last month, the artist considered the image to be a link to Broad Ripple visual artists, musicians and skateboarders who were Tolbert's contemporaries.
"That mural was a touchpoint for me and a lot of other people to be able to tell our story of the history we were part of in the neighborhood," Thompson said. "Now I think there's an important time in history that's not being documented. The mural itself wasn't going to be able to do it on its own, but it was at least a touchpoint. When people would ask, 'Who is this guy?' it would open the door for you to explain not only what Mpozi did but the significance of the Patio and people who founded a community that was a centerpiece for the culture."
Thompson said artists and people who knew Tolbert are working on plans for a new way to commemorate him in Broad Ripple.
Art appreciation
For the past decade, Hernandez has participated in "Walldogs" mural projects in which artists paint historical images on walls in rural towns such as Shipshewana and Marshall, Illinois.
"They try to focus on small towns because the idea is that murals foster art tourism, especially if they're Rust Belt towns," Hernandez said. "Then an art festival can be a way to bolster the economy."
Thompson said he believes people have a greater affection for murals and street art than in the past.
"Generally speaking, the appreciation for the work and having it in public has exploded," he said.
Some property owners want art on their buildings because murals can boost the value of a property, Thompson said. Meanwhile, murals are considered a cultural amenity.
Since 2016, the Public Art for Neighborhoods Ordinance has required private developers working in tax-increment-financing districts to put 1% of the value of Indianapolis tax breaks or other monetary incentives they receive into the Public Art for Neighborhoods Fund, which is overseen by Indy Arts Council. As an alternative, developers are allowed to spend the equivalent amount on public art at their projects.
Judith Thomas, deputy mayor of neighborhood engagement, mentioned the rise of public art during the Oct. 6 unveiling of the Bicentennial Unity Plaza mural.
"The city has increased its investment into public art over the last several years," Thomas said. "A community's art is a window into its values, its culture and its identity. I have to think this is also why public art has attracted more philanthropic and private funding. And we need more."
Moore called public art a democratizing force.
"It's a way that everybody can see themselves reflected in the world around them," said Moore, who's served as the arts council's director of public art since 2014. "People have that connection: 'I feel more of a part of my environment because this artwork is here.'"
If and when it's time for a mural or a different type of public art to be painted over or removed, Indy Arts Council suggests best practices for spreading the word. It's important, Moore said, to "overcommunicate" with stakeholders.
"Talk to everybody who was originally engaged and make it a community process," Moore said. "Figure out an appropriate transition ritual or chance to say goodbye."•
Please enable JavaScript to view this content.