The capital's cultural hub Manaveeyam Veedhi will now feature art by 13 women artistes on its walls. The work is underway on the project, which was inaugurated on Wednesday in the presence of Education Minister V Sivankutty and artist and Kochi Muziris Biennale president Bose Krishnamachari.
"The work is expected to be finished before November 1. The theme is 'ningalegane ningalayi' (how did you become the you of now) with Keraleeyam (best of Kerala) as the main element.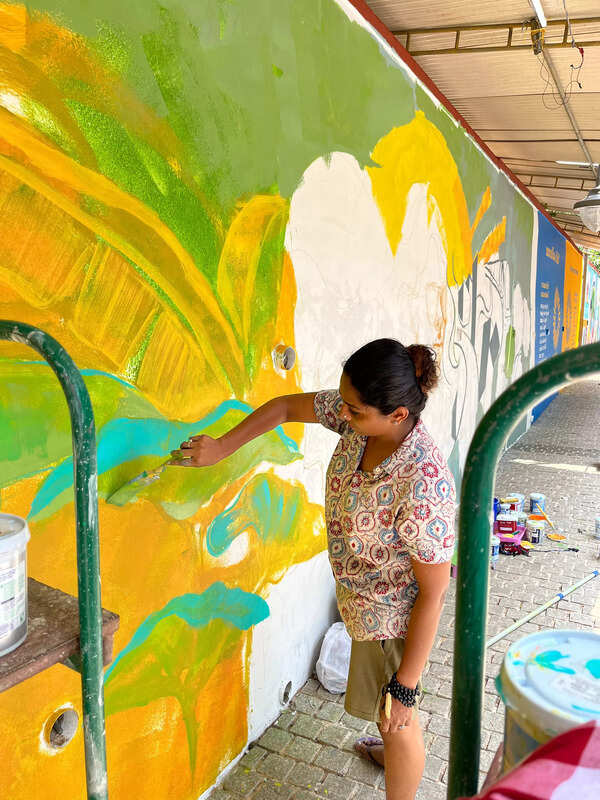 Yamini Mohan at Manaveeyam
Key to the progress and development of a place is the participation of women in all areas. It's a symbol of no discrimination. This is a wonderful initiative to give women artistes that space," says Yamini Mohan, one of the artists featuring her work here. Another artist, Hima Hariharan says, "It's a welcome move. There are many women artistes who haven't come to the forefront. This is a great opportunity in that sense. I paint using watercolour on paper. My work will be based on nature. I will use the sights I saw in nature as my inspiration."
Other artists featured are Soumya VN, Anupama Elias, Jalaja PS, Jaya PS, Helna Merin Joseph, Mariam Jasmine, Mona Isa, Sabitha Kadannappally, Sara Hussain and Shilpa K.